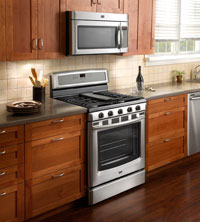 News from Maytag..
Massive recall includes Maytag, Jenn-Air, Amana, Admiral, Magic Chef, Performa by Maytag and Crosley brands
Maytag has announced a massive recall of 1.6 million fire-prone refrigerators. The recall includes Maytag, Jenn-Air, Amana, Admiral, Magic Chef, Performa by Maytag and Crosley brand refrigerators.
The News
Whirlpool to cut 5,000 jobs by end of 2009
Appliance maker Whirlpool to cut work force by 5,000 by end of 2009, posts drop in 3Q profit
Whirlpool Corp. said Tuesday it is eliminating about 5,000 jobs this year and next, due in large part to the long downturn in the U.S. housing market.
The nation's largest home appliance maker also reported that its earnings fell 7 percent during the third quarter on lower global unit volumes and higher material costs. Whirlpool lowered its earnings outlook for the year and announced price increases.
Company officials received more sobering news Tuesday upon learning that consumer confidence had plunged to its lowest level on record. The Conference Board reported that its index dropped to 38 in October from 61.4 in September. That bunker mentality makes it more likely shoppers will retrench further, throwing the economy into a tailspin.
Shares of Whirlpool dropped 8.3 percent, or $4.16, to close at $45.87. They have traded as high as $98 within the past year.
"The global credit crisis has had a profound negative impact on what was already a weakening and very fragile global economy," said Chairman and Chief Executive Jeff M. Fettig. "Declining home values, rising unemployment and very low consumer confidence levels will likely prolong a negative demand environment at least through the middle of 2009."
The Benton Harbor, Mich.-based company earned $163 million, or $2.15 per share, for the quarter, compared with $175 million, or $2.20 per share, a year earlier. Revenue for the three months ended Sept. 30 edged up to $4.9 billion from $4.8 billion.
Analysts surveyed by Thomson Reuters anticipated, on average, earnings per share of $1.69 on revenue of $5 billion.
Whirlpool said the drop in profit reflects significantly higher material and oil-related costs and lower industry demand. U.S. industry unit shipments of major appliances declined 11 percent in the quarter.
The company said it now expects a profit of $5.75 to $6 per share for 2008, compared with its previous estimate of $7 to $7.50 per share.
It also predicts generating free cash flow of $50 million or less for the full year, well down from its previous estimate of $500 million to $550 million. Because of this and the economic conditions, the company has suspended its $500 million share-repurchase program announced in April.
"The weak cash flow underscores the weakness of (Whirlpool's) earnings quality," Citigroup analyst Jeffrey T. Sprague wrote in a note to investors.
To offset higher costs, Whirlpool will raise the prices of its products sold in North America by 8 percent to 10 percent in January, Fettig told analysts during a teleconference. Prices in Europe will go up 5 percent to 7 percent beginning in November, while prices in Latin America already increased 4 percent to 5 percent in September.
The job cuts include positions being eliminated from plant closings already announced this year along with new reductions taking place now and through the end of next year. Whirlpool, whose brands include Maytag, KitchenAid and Jenn-Air, said it has 73,000 employees worldwide.
Since January, Whirlpool had announced the closure of four plants in LaVergne, Tenn.; Oxford, Miss.; Puebla, Mexico; and Reynosa, Mexico — a loss of about 2,000 jobs.
The company said it also will shutter its facility in Jackson, Tenn., and shift production from there to its plant in Findlay, Ohio, eliminating about 500 positions.
It also will cut approximately 500 salaried jobs throughout North America, including both full-time and contractor positions.
Another approximately 1,900 jobs will be cut overseas, mostly in Europe.
The cuts are expected to produce annual savings of $275 million, Whirlpool said. It now anticipates restructuring expenses of approximately $170 million in 2008 compared with its previous estimate of $100 million.
"While the decision to eliminate jobs and close facilities is very difficult, they are necessary to ensure our cost-effective business structure," Fettig said. "We are proactively taking the necessary steps now to adjust our cost structure and production capacity to lower expected demand levels."
Whirlpool had more than 80,000 employees after acquiring Maytag Corp. in March 2006 in a $1.8 billion deal. It then started shedding thousands of domestic and foreign jobs and sold off some unwanted Maytag businesses, including Hoover vacuums.
About the time that was completed, costs for raw materials and transportation started climbing and sales of new U.S. homes began tumbling. Whirlpool conducts much of its business through homebuilders.
On Tuesday, a closely watched index showed that the value of homes dropped by record amounts. The Standard & Poor's/Case-Shiller 20-city housing index showed a drop of 16.6 percent in August from a year ago, the largest on record going back to 2000.
Maytag voluntarily recalls 1.6 million refrigerators due to potential fire hazard

Maytag Corp. said Tuesday that it has voluntarily recalled about 1.6 million refrigerators due to an electrical problem that could create a fire hazard.

The problem has led to 16 incidents ranging from smoke damage to major kitchen damage, Maytag said.

The company and the U.S. Consumer Product Safety Commission said the recall — the nation's largest involving refrigerators, according to federal authorities, involves some Jenn-Air, Amana, Admiral, Magic Chef, Maytag, Performa by Maytag and Crosley side-by-side and top freezer refrigerators. They were sold from January 2001 through January 2004 at department and appliance stores and by homebuilders.

The refrigerators, which sold for $350 to $1,600, came in black, bisque, white and stainless steel. Those with bottom freezers are not included in the recall.

The recall notice said an electrical failure in the relay component that turns on the refrigerator's compressor can cause overheating and pose a serious fire hazard.

Maytag, a unit of Whirlpool Corp., said 41 refrigerator ignition incidents have been reported, with 16 resulting in various degrees of damage.

Consumers were advised to contact Maytag to find out if their refrigerator is included in the recall and to set up a free in-home repair. Its toll-free number is 866-533-9817.

The company said refrigerators should not be returned to the stores that sold them.

Benton Harbor, Mich.-based Whirlpool purchased Maytag in March 2006 in a $1.8 billion deal.

Whirlpool shares gained $3.72, or 19 percent, to close at $23.11 on Tuesday.